Organizations are facing a digital transformation, as I have written, that is rapidly changing the applications and services that businesses use to operate and deliver information. This new digital generation addresses the expectations of consumers and business partners for information and service in real time. One example of it is enterprise messaging. Recently I wrote about the shift to this technology and the challenges it poses for organizations that lack sufficient skills. However, new messaging appliances and virtualized messaging can carry some of this burden. By interconnecting them, organizations can be more confident in their ability to support the range of information and applications that operate in real time, not only for people but on devices and machines.
There are four key areas in which digital business innovation for enterprise messaging is essential to the future of almost every organization. Let's look at each of them.
The Internet of Things (IoT) is a rapidly evolving technology segment, in which real-time messages are transmitted from machines, devices and sensors to other points or gateways for processing through a messaging infrastructure. The conventional approach to connecting devices and sensors uses various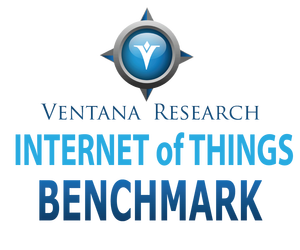 proprietary system interfaces and protocols that do not always provide sufficient security and flexible interoperability and may not be designed for the scale that large organizations require. Major corporations in most industries now have internal groups led by digitally proficient officers at the C or VP level who are responsible for investigating and selecting new technology tools like the ones that my colleague has pointed out. They are most common in companies that provide services but also in manufacturing and product-related ones.
IoT devices range from appliances in the home to wearables such as watches or clothing to sensors in factories and warehouses. The Internet of Things is gaining momentum and will support a range of services for both business-to-consumer and business-to-business interactions. It tracks and reports on activity or usage of devices or services (electricity, for example), and connected sensors can indicate the need for maintenance or impending failure. To transmit information efficiently across the internet, messages can communicate with servers of service providers or manufacturers. Efficiency requires real-time processing and capabilities to utilize information in the messages for further actions, monitoring or analysis. This range of requirements is at the center of our new research into IoT, which is currently under way.
The second key area is the new generation of consumer and customer applications and services that has emerged through social media, virtualized contact centers or customer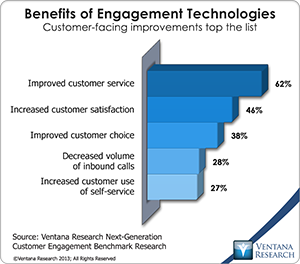 portals, and commerce systems that require real-time information and action. Existing methods of digital engagement do not exist or are too slow, so many organizations are investing in new applications that can drive customer growth and retention. These systems rely on enterprise messaging across the internet and company networks. The huge volume of customer data and the rapid velocity of its flow could overwhelm networks and databases that are not architected to handle them. In addition these applications in many cases are operating on mobile devices. Their uses include finding and subscribing to new services and communicating customer demands. Again, they must run in real time to communicate from individuals to services on the internet. Our research into next-generation customer engagement reveals benefits of these types of investments, most often improved customer service, increased customer satisfaction and improved customer choice.
These applications often operate in cloud computing environments or use enterprise messaging that is hosted on the internet. Cloud computing, already widespread, is the third area. The advent of platform or infrastructure as a service (PaaS or IaaS) has changed the overall software market as many organizations now prefer to subscribe to or rent software rather than purchase it and pay for maintenance on-premises. Over the past five years the markets for business applications, tools and now databases have shifted to the cloud. Organizations can choose to be a single tenant in a private cloud or one among multiple tenants operating in a public cloud, and most ISVs have shifted new software development to cloud platforms. An even more transformational trend is application development done in the cloud; Amazon, IBM, Microsoft, Oracle and others offer PaaS or IaaS for this purpose. These platforms feature embedded messaging that can run within the applications or connect to enterprise messaging systems.
The fourth area, big data and analytics, deals with the volume, velocity, variety and granularity of data that organizations must manage and derive value from. The latest big data management technology appears in commercialized versions of the open source Apache Hadoop from providers such as Cloudera, Hortonworks and MapR. Established data management providers such as IBM, Microsoft, Oracle and Teradata have embraced Hadoop and expanded their architectural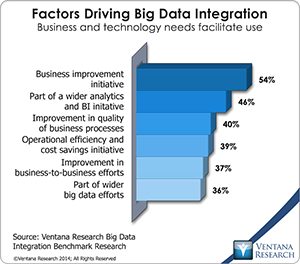 and technological approaches to a new generation of big data technologies. All these developments increase the need for directly connecting data management technologies and avoiding the silos of so-called data lakes. The most dynamic aspect of big data is transferring it in real time, which requires tremendous computing power and sophisticated messaging.
Big data is not new to messaging providers, nor is streaming of events in real time; this is often referred to as big data in motion. But most Hadoop-based technologies have not been able to scale their processing and compute operations sufficiently to deal with the rapid velocity of such data in motion. Some hope lies in an open source project called Kafka, which is a part of the Hadoop architecture designed to process streams of data. Fairly primitive in its initial design, it is now seen in the Apache and open source developer community as the path to handle real-time data with Hadoop. However, it will have to be connected via messaging to support the uses discussed above. The need for it is shown in our research into big data integration, which finds that business improvement initiatives are the top reason for investment in more than half (54%) of organizations.
These examples emphasize the importance of real-time processing and messaging in digital business innovation. Organizations that do not have the skills for enterprise messaging but know they need to advance their support and responsiveness to consumers, services and their own operations should assess what it will take to make this critical technology part of their future.
Regards,
Mark Smith
CEO and Chief Research Officer