The importance of product information management (PIM) has become clear in recent years and especially as it relates to master data management. As I recently wrote handling this business process effectively and using capable software should be priorities for any organization in marketing and selling its products and services but also interconnecting the distributed supply chain. Our research on product information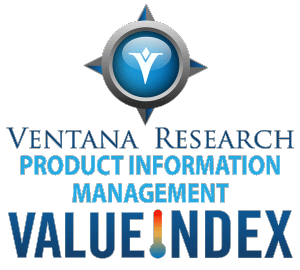 management can help organizations save time and resources in efforts to ensure that product information is an asset to facilitate efficiency in many business processes. Through years of benchmarking, we have developed a blueprint for managing and improving product information. Using this approach enables companies to more effectively align and link their activities and processes. Of course achieving effectiveness also requires using applications that create consistent, reliable product information. We regularly update our Value Index for PIM to enable companies to evaluate vendors and their applications' suitability for use in all business processes requiring product information.
The Ventana Research Value Index methodology evaluates application vendors and their products in seven categories. Five are product-related, assessing usability, manageability, reliability, capability and adaptability, while two quantify the customer assurance issues of vendor validation and total cost of ownership and return on investment (TCO/ROI). The Ventana Research Value Index: Product Information Management in 2015 is the distillation of a year of market and product research by analysts at Ventana Research, the premier benchmark research and advisory services firm. Built on a foundation of 12 years of business and technology research, this unbiased, fact-based index is the first such industry undertaking to assess the value of software designed specifically for enabling product information management.
The Value Index for Product Information Management in 2015 reveals insights into the state of the software market for PIM. It investigates the divide between vendors that are independently focused on this category – Agility Multichannel, Enterworks, Informatica, Riversand and Stibo Systems – and larger ones that embed it in a business application suite – IBM, Oracle and SAP. A third group in­clud­ing ADAM Software and WebOn specializes in a departmental approach to PIM; these companies also are expanding from their European bases to market and sell in North America.
The Value Index analysis identifies two companies, Stibo Systems and Informatica, as the current leaders in PIM; Stibo
Systems outscored Informatica by only 0.2 percent. Stibo Systems is rated Hot and ranks first in four of the seven evaluation categories (Usability, Capability, Validation and TCO/ROI); Informatica, also Hot overall, leads in the other three categories (Manageability, Reliability and Adaptability). A primary distinction between the two is that Stibo Systems dedicates its focus to this particular business process and applications while Informatica, through its acquisition of Heiler Software, has integrated PIM software with its own data infrastructure including master data management, data integration, data quality and other key tools. One of the insights resulting from our PIM Value Index analysis is that each of these vendors would benefit from paying attention to the other's strengths.
Agility Multichannel is the third-ranked vendor for PIM, also rated Hot overall. Making advances in Usability, Reliability, Capability, Validation and TCO/ROI and also in Adaptability through an OEM agreement with Pentaho for integration and analytics, it has dramatically improved its offering in the market. Deeper support for commerce also strengthens its independent approach to PIM. A close fourth is Riversand, another Hot vendor, which continues to advance in many of the categories, particularly Usability and TCO/ROI.
Enterworks finished a strong fifth and is rated Hot overall. Its recent acquisition by Black Dragon Capital and appointment of a new CEO should bring renewed vigor to its market efforts. SAP, ranked sixth and rated Hot, acquired PIM vendor hybris software and entered the market with new marketing and commerce applications that have embedded product content management. SAP also provides data management and related tools to support PIM. Seventh-place WebOn improved from Warm to Hot overall. It has expanded its efforts to North America and made improvements in Usability; its specialty areas are sales and commerce where PIM is not as easily available or integrated with existing processes and systems.
Oracle moved up to eighth place and now is rated Hot. It has improved its PIM offering, particularly in how it supports existing customers and with an interface to applications through its Product Hub and data management technology. Offering PIM independently is its largest challenge, and the Warm rating for Validation and TCO/ROI make it more difficult for potential customers to consider its offering. ADAM Software here makes its initial entry into the Value Index; though it is rated Warm overall, it earned the Hot rating in three categories. It focuses on marketing departments, which often need help in managing product information. Finally, IBM struggles to support PIM as a business application. Its focus is on master data management and associated data integration and quality, and it is rated Warm in support for PIM.
The 2015 Product Information Management Value Index has advanced from the previous version in two major respects. First, we increased the specificity of the characteristics we evaluated in Usability, Manageability, Reliability and Adaptability to be able to differentiate the products better. Second, we increased the number of items in the Capabilities section to reflect the growing need for PIM to provide more depth for both business and IT users. This resulted in lower scores for some vendors in some categories, but others made improvements to their products in the past two years. For example, Agility Multichannel's score rose significantly, but IBM, which has not made much investment to PIM, remained in last place. Other vendors such as Tibco were invited multiple times but did not respond and were left out of the analysis. Other specialized and vertical application providers such as JDA were left out because they did not meet the evaluation criteria. Still other vendors were acquired, such as GXS by OpenText, and became more focused on providing integration technology; lacking a dedicated focus on PIM they were excluded.
I urge organizations to do a thorough job of evaluating product information management systems and associated applications, tools and information technology. To help we offer this Value Index as both the results of our in-depth analysis of these vendors and as an evaluation methodology. The Value Index can be used to evaluate existing suppliers and also provides evaluation criteria for new projects; applying it thus can shorten the RFP cycle time. It also will eliminate wasted time in traditional evaluations along with the number of resources required to assess and optimize your product related processes with PIM.
Unlike many IT analyst firms that rank vendors from an IT-only perspective, or focus too much on master data management and data infrastructure, Ventana Research has designed the Value Index to provide a balanced perspective of vendors and products that is rooted in an understanding of business drivers and needs. This approach not only reduces cost and time but also minimizes the risk of making a decision that is bad for the business. Using the Value Index will enable your organization to achieve the levels of efficiency and effectiveness needed to optimize product information management. I invite you to learn more about how it can help.
Regards,
Mark Smith
CEO & Chief Research Officer