Maximizing the performance and value of people in the workforce should be a primary focus for any business these days. It is a complex task, especially for larger organizations, and chances for success can be increased by investment in human capital management (HCM) applications. In this competitive software market SAP is making a strong push, aided by acquisitions in the last three years of SuccessFactors for talent management and more recently Fieldglass for contingent labor management. Recently I attended the SAP HCM analyst summit to hear about its direction and plans to grow its market share. The company has made progress since our last analyst perspective on it. Mike Ettling, SAP's president for the HR line of business, discussed its newly refined strategy and organizational structure;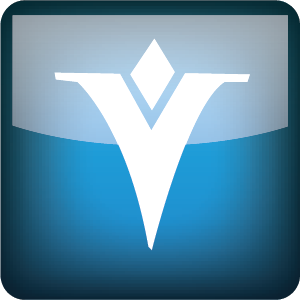 the company has added executives from around the globe to emphasize its commitment to helping human resources organizations.
SAP for HCM today is focused on HR applications in the cloud for talent management areas including recruiting, onboarding, compensation, performance, learning and succession. It has added a focus on self-service for employees and managers with payroll matters. SuccessFactors, according to Ettling, contributes 40 percent of the subscription bookings in cloud compuing for SAP. He said that 59 percent of bookings for SuccessFactors are outside North America, which reaffirms its global focus.
SAP offers its products in more than 70 countries and in 37 languages. It manages regional data centers to support in-country databases of employee information and now has more than 1,000 implementation partners. SAP's primary market is what we term very large organizations, which have more than 10,000 employees. Executives mentioned a renewed focus in the small-to-midsize market but did not clearly articulate how it will compete with the many providers that concentrate on this segment. SAP's intentions can be seen in these numbers: Some 4,200 companies with a total of more than 28 million employees use at least one of its cloud-based HCM applications. More than 40 customers each have 100,000 users, and 110 each having more than 50,000 users.
SAP's evolution into cloud computing is well established now. Presenters at the analyst summit made it clear that the future of its on-premises software for HR is limited; there will be no new code lines and the vendor is in maintenance mode as it focuses R&D on its cloud-based products. Meanwhile, as it continues to execute on its mission of talent management and core HR, SuccessFactors has done well in providing to companies using SAP HR on-premises an interface for interoperating with its cloud offering. Next it will need to refine its plans for supporting those customers in migrating to the cloud.
SAP insists on its ability to supply all HCM applications, but it lacks a unified Web presence for them. Currently the SuccessFactors website presents only the SuccessFactors cloud computing products, not the entire portfolio, and the SAP website for HR lacks depth on its contingent labor products. For that you must manually navigate to the Fieldglass website. Fieldglass provides vendor management systems, a necessary part of a comprehensive strategy for HCM. Missing from the site is a discussion of how its products interoperate with SuccessFactors and SAP applications. I was surprised that no one from the Fieldglass organization was present to provide depth; the acquisition closed in May 2014. The parent company should clarify in 2015 how Fieldglass aligns to the SAP HCM strategy.
SAP will have to work harder to present a complete picture that includes contingent labor and workforce management and presents real understanding of the applications required to manage the hourly labor market. SAP speakers seemed careful to not mention any of the workforce management players in the market, such as Kronos and Workforce Software, and did not discuss the aspects of this market, which is a key part of the human capital management market overall. SAP's information is restricted to noting that its Employee Central can perform time and attendance with absence management and time sheet support; that is only one component of workforce management. SAP ought to create and publish an overall blueprint of what it can offer for HCM and HR departments.
More positively I was impressed with how SAP is addressing the next generation of learning management, making it simple to assemble and deploy learning modules on mobile devices in what it calls content authoring and also supporting open content networks and even recommendations.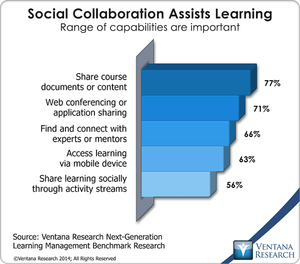 Our research in next-generation learning management finds that collaboration on content (77%) and access to learning via mobile devices (63%) are among the top priorities for organizations. SAP is transforming the methods for how people engage informally with learning and can be self-sufficient in specific business areas while still offering the formal learning environment that is required by policies and compliance programs.
In addition SAP has taken seriously the need to make human capital analytics easier to interact with through the user experience in the latest version of SuccessFactors HR Analytics. This is a significant advance not represented in its website, which still presents basic dashboards that are not sufficient for HR to assess and act on information about its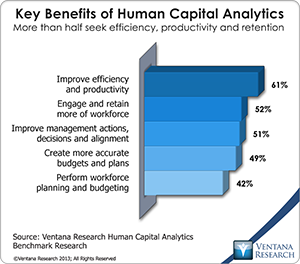 workforce. SuccessFactors had a product in workforce planning, but it is not clear how it utilizes or integrates to SAP's business planning applications. Presenters at the event showed that it does take the aspects of succession planning and team building seriously and explained how it will use organizational charts more effectively. SAP has historically worked with Nakisa. SAP has the potential to advance analytics and especially predictive analytics through SAP HANA and its acquisition of KXEN, but it is not moving fast enough to blend them with its suite of applications and HR platform. This is a critical step; our human capital analytics benchmark research finds that improving efficiency (61%), engaging and retaining the workforce (52%) and improving management actions (51%) are the top benefits of investments in this area of analytics.
SAP continues to advance its cloud-based payroll management offering, Employee Central, through experience with its on-premises product that has global deployments. Transitioning capabilities to the cloud is not as important as designing and streamlining the tasks for managing payroll administration and employee access to the information. SAP has been taking a blended approach to use its on-premises offering, which ranked first among products in our 2014 Payroll Management Value Index. New advances in 2015 with localized support for time off and benefits along with time sheet management are meeting a growing demand for simplifying payroll processes. Our benchmark research in payroll management shows that this is important to users: 54 percent said it is very important to improve the efficiency of payroll processes, and about as many (53%) said employee self-service is an important aspect of payroll management.
SAP presenters also discussed their efforts to streamline HR operations and administration to make oversight simpler and more responsive. This includes Action Search, a capability to easily search an organization and get access to information rapidly from within Employee Central. I especially like the advances in its people profile to get to information about individuals from the Web and mobile devices. In addition, SAP continues to advance social collaboration through SAP Jam,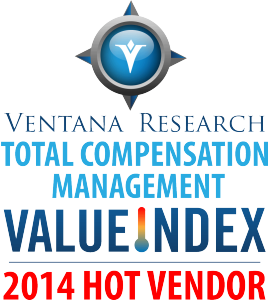 which in the past two years has accumulated 17.5 million subscribers and more than 100 customers. Making social collaboration relevant is done through what it calls work patterns that include employee performance, mentoring and coaching and even onboarding. SAP Jam has great potential, and I hope to see more of it within the talent management applications and in workflow across its applications.
At the summit I heard no reference to what SAP is doing with compensation management, but the company is doing well here. Our analysis rated SuccessFactors Compensation a Hot Vendor in our 2014 Value Index; it is a unique offering that is well integrated with the rest of the talent management suite.
A presentation on the evolved SAP Cloud architecture discussed S/4HANA, which provides a platform for interoperating across on-premises and private and public cloud environments. It includes the use of SAP HANA Cloud's metadata framework of specific applications. SAP is moving to its own integration technology for process and data requirements and designing its own user experience rather than continuing to work with Dell Boomi.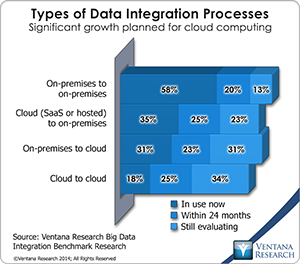 It is not clear to me how this will help most HR organizations, which have and must interoperate with systems from several vendors and need data to flow across processes, which was easily instrumented within Dell Boomi. The demand for integration between cloud and on-premises configurations is growing rapidly; our big data integration research finds that cloud-to-cloud integration will have the largest growth, with one-quarter of organizations planning to address that in the next two years and one-third still evaluating that. This along with eliminating use of the Oracle database and using SAP HANA is key to its efforts in 2015. Presenters made mention of the Smart Data Access tool using HANA for machine learning, but it was not well articulated, referring to "robotic workflow," which is a foreign language to any HR professional.
SAP SuccessFactors has a new customer experience methodology that uses a nine-step process to ensure satisfaction among a rapidly growing variety of companies using the software. The new approach is being led by service and support professionals from across SAP. This level of focus on customer engagement is critical as SAP must demonstrate commitment to its customers more convincingly and differentiate itself in the market where many competitors have similar HCM suites. On the other side of customer experience is the license payments for its software. Like many other vendors in the cloud computing market SAP offers significant incentives to lock in multiple-year contracts in renting its applications. SAP prefers to trigger the invoice for the subscription to an application at the time the contract is signed, compared to others that do not invoice for license seats until the time of going live – a more reasonable approach from the customer's point of view, as it takes time to transition from existing applications and processes to new ones and truly have employees using them. This could work counter to the company's customer experience plans.
SAP's goal is to grow into a US$2 billion provider of HR applications by the end of 2017 and dominate the market. I believe that for it to do so will require more than just marketing and selling to HR and includes communicating to and convincing CFOs why this is an essential investment to address the talent risk of organizations. When you calculate the cost and time wasted in replacing workers who might have been retained and making new workers competent, investments in HCM and talent management are worthwhile in a financial analysis. But SAP like others does not demonstrate this value for finance and operations management. More than promoting its HCM offerings as part of ERP efforts, it will have to decide if it wants to win the hearts and dollars of Finance.
SAP needs to show it can help organizations manage hourly workers beyond tracking time and absence and contingent workers through its Fieldglass acquisition. Advancing its cloud platform for interoperability with its on-premises applications – hybrid cloud computing – is essential to protect existing customers using SAP ERP and HR, along with helping global organizations with employees based around the world. At the summit I did not hear about any progress in applying its mobile technology to applications in HCM although its platform supports Microsoft Windows Touch and the Surface 3 tablet that is beginning to appear in business as validated in our market research. Nor was there much focus on security, voice or wearable computing via mobile technology. SAP is sticking to the basics when it comes to mobile technologies and use for HCM.
SAP has transitioned SuccessFactors into a fully functioning subsidiary that remains strong in the market for HR and talent management applications. It continues to innovate and introduce simpler and more mobile methods for using its suite of applications. It has work to do to show how its overall HCM portfolio meets the broader needs of HR and workforces, and I expect movement here in 2015. The company is a major player in HCM, and organizations should evaluate its offerings to determine how they can help HR be more effective in supporting the essential asset of its people.
Regards,
Mark Smith
CEO and Chief Research Officer