It is more important than ever for businesses to attract and retain the best talent, and managing compensation effectively is an essential tool for doing so. Obviously companies must pay well to compete, but managing salary, merit pay, variable pay and incentives for employees, tracking their hiring anniversaries and conducting accurate performance appraisals make total compensation management a complex process. All of this must be managed within budget and policy guidelines. As organizations grow and require more employees, the challenges multiply and the difficulty increases. Our benchmark research finds that inconsistent execution is the top impediment to effective compensation management for nearly half (47%) of organizations. Software designed for this purpose can help.
Beqom, which has offered compensation management software since 2009 and previously was known as Excentive International, has advanced its applications to meet these challenges for all business units and especially Human Resources, which typically manages this process. It supports a range of compensation types from salary, merit and bonus pay to long-term incentives and stock options.
Beqom is rated a Hot Vendor in our 2014 Value Index for Total Compensation Management.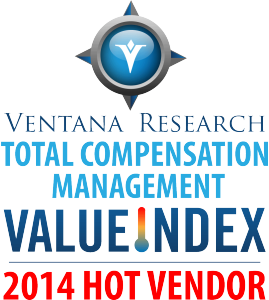 Each Value Index methodically assesses vendors across seven evaluation categories covering the products and the vendors. Beqom ranks high in several evaluation areas; in particular it tops the list in Capability and ranks second in Manageability. The software's flexibility in modeling can address all aspects of compensation, including sales compensation, in one application. For example, its ability to handle the variety of crediting from accounts and territories is effective for sales operations teams. In addition its ability to make compensation visually engaging in management of employees and hierarchies and tracking of budgets is simple and engaging. Its ability to define and apply rules and calculation helps support a range of compensation and incentive plans. Its compensation dashboard and reporting simplify oversight and management of compensation. The application has been designed to enable HR and operations professionals to administer and manage compensation processes with minimal IT involvement, which is one reason why it rated so high in Manageability. While beqom does not provide much public information on its advancements from one release to another, and I believe it should do more, it does bring out iterative improvements quarterly through feature packs and makes major new releases annually.
Since the publication of our Value Index, beqom has taken steps to demonstrate its total cost of ownership (TCO), which we found lacking. One unique aspect in which it has invested is to take the complexity of implementation and maintenance costs out of customers' migration to its software. The company charges a single annual fee to migrate, implement and deploy. Most organizations do not assess costs beyond the use of the software and are surprised by extra fees for migration and implementation. Even in cloud computing there is no magic to migrate a company to a new application environment. Unlike many vendors beqom addresses these issues in procuring software by building in the services needed.
It also is different from others in the market that have integrated compensation management with their talent management suites. While there is value in a unified approach, many organizations don't want to replace other talent management applications (such as recruiting and performance management) to acquire compensation management through a suite, and beqom's stand-alone package suits this preference. Even so beqom has integrated its software with talent management applications in customer deployments and can help share compensation information with them.
Our compensation management research finds opportunity
for vendors in replacing spreadsheets used for this purpose, which remain prevalent. A large majority (71%) of organizations have found some type of errors in payment that had to be fixed before payment or had to be corrected after the fact. Such problems create challenges in financial accuracy, employee trust and the ability to govern compensation. This is a factor in more finance organizations getting involved to help improve compensation processes; our research finds that in almost one-third of organizations Finance is stepping up to influence improvements. Almost one-fourth of finance departments want direct access to this information for financial planning and analysis. Software such as beqom's can help organizations replace spreadsheets and more importantly reach the primary goals of compensation management: improvement of efficiency, alignment and performance, which are important to about nine out of 10 participants in our research. Closing the gaps in compensation policies and practices is critical, and managing it effectively and transparently can build confidence and trust among employees.
Seeing is believing with beqom. If you are assessing your current approach and considering changes to simplify compensation management, it is worthwhile to view a demonstration of what it can do.
Regards,
Mark Smith
CEO and Chief Research Officer