Organizations today create and collect data at ever faster rates, and this introduces challenges in ensuring that data is not just managed but used in a consistent manner for a range of operational and analytic tasks. This is made more difficult by new data sources whose definitions vary from standard and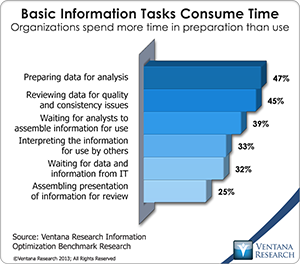 widely used formats. Making all information available and consistent is essential to support business processes and decision-making. A key technology tool for this effort is master data management (MDM). Every business area needs MDM, whether it deals with customers, products, employees, finance or others individually or collectively in what is called multidomain MDM. It is an essential tool for data governance across an organization, which has become a focal point for improvement as many organizations spend significant time in data-related tasks. Our benchmark research on information optimization shows that preparing data for analysis (47%) and reviewing data for quality and consistency issues (45%) are the two information tasks that consume the most time. Properly used MDM enables data stewards and other IT professionals to improve the consistency and quality of departmental and enterprise data.
Profisee is a software vendor that seeks to provide consistent definitions across data through master data management. It has been part of the MDM industry since its origins when the company's founders created what is now part of Microsoft SQL Master Data Services. Profisee offers dedicated technology to help manage data across applications, databases and systems. Its data management platform and tools, Master Data Maestro Suite, provides the ability to establish and maintain consistent business definitions that help normalize any kind of data. It supports analysts, data stewards and others responsible for making data suitable for a range of operational and business tasks by helping them establish "golden" records – the agreed-upon data definitions and formats that users can trust.
Maestro Desktop provides the core functions of MDM, from modeling of data to definitions and mapping of data from applications and systems. It enables management of hierarchies that align, map and roll up data. In addition it offers Golden Record Management in which data quality, matching and survivorship contribute to establishing golden records for operational and analytical needs. Profisee handles various data quality tasks from simple ones such as address validation to location and contact services that help streamline tasks that can be difficult and time-consuming. The product has been designed to enable analysts across business units and IT to share in the tasks that ensure that master data is being applied properly. Because MDM should involve collaboration across roles in the organization, Profisee include workflow so the right people can share and approve tasks. Our information optimization research finds that in 42 percent of organizations business and IT work together; this is essential because business users are most familiar with the data and its use in business processes and resulting outcomes.
Profisee Master Data Maestro also provides analytics that help users understand the state of data governance and track data processing to determine issues to be resolved. It supplies adapters to help integrate data to databases and applications from Microsoft, Oracle, Salesforce.com and many others. It also provides a developer's kit to help design Web services and message-based interfaces needed for application and system integration. It also extends the use of Microsoft SQL Server and Master Data Services by providing broad support for data governance and MDM across an enterprise.
Our research confirms the growing number of data sources: A significant number of organizations that have more than 16 sources said it is very important to simplify information for business. This situation is creating increased pressure to improve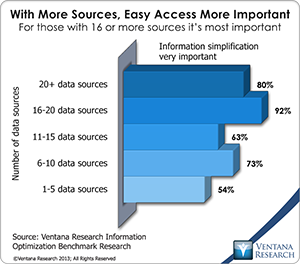 data-related processes which MDM can help. Advances in so-called big data now enable organizations to take in huge volumes of data at rapid cycle times, and big data is an important technology in 41 percent of organization, according to our information optimization benchmark research. As big data becomes widely adopted, MDM becomes critical to ensure that data is used in the proper context. Our research finds that establishing master data has become a top concern in two-thirds of organizations. Profisee has expanded its support for big data environments including Hadoop, ensuring it can process data from various databases and platforms.
Another rising technology, cloud computing, also can benefit from MDM. Cloud deployment of applications and data increases the need to manage data outside the enterprise. Profisee recently announced MDM for Microsoft Azure Cloud, which enables Master Data Maestro to support Microsoft SQL Server Enterprise Edition and Microsoft Master Data Services in the company's Azure cloud. Supporting cloud-based systems is nothing new for Profisee, which has developed several adapters such as it did in 2014 for Salesforce.com.
Addressing the need for quality and consistency of data is essential to business processes and decision-making that rely on business analytics. Profisee is contributing to this effort not only through its products but also through its range of services and industry models which help perform proof-of-concepts and establish a roadmap that will help ensure smooth adoption of MDM, avoid lengthy consulting engagements and save time and resources. Profisee is making MDM practical and easy to use, and its product does not require a large budget to get started and maintain data governance in small and midsize companies. If you are looking to improve your data governance process through MDM whether across the organization or within a line of business, Profisee is a supplier that you should examine closely.
Regards,
Mark Smith
CEO and Chief Research Officer